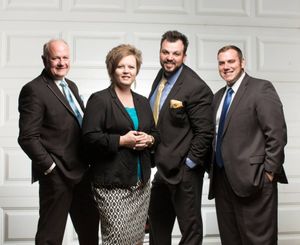 Nashville, TN (August 10, 2017) Butler Music Group and Family Music Group works with some of Gospel Music's top artists.  We are proud to announce that the 2017 Diamond Award Top 5 nominations were just released and BMG/FMG artists were honored with 13 nominations. 
The Williamsons continue to solidify their place at the top of Southern Gospel music with each hit song and each award nomination. They have been honored with two nominations-Favorite Mixed Group and Lisa Williamson for Songwriter of the Year. 
The Old Time Preachers Quartet were also nominated in two categories-Album of the Year/Old Time Way and Sunrise Quartet. Anchored by legendary bass singer Mike Holcomb and Gospel music stalwart Les Butler, the quartet is on a hot streak recently claiming their second Singing News Top 20.  They are also appearing at major events such as the Blue Gate Theater, Dollywood, NQC Main Stage, Shadow Valley and more. 
Sacred Harmony picked up two nominations-Sunrise Trio and Video of the Year. The Tennessee based trio has been building momentum this year, appearing at the Singing In The Sun and also sharing the stage with Larry Gatlin, TG Shepherd and others. Their new single, Grave Robber, is quickly climbing the charts. 
Coming off their first Top 40's, the Coffmans and Jason Davidson both appeared in the Top 5 for Sunrise Artist. The Coffmans recently released a breakout album, Judgement Day, which is turning eyes and ears towards this talented Kentucky Family. With appearances at the American Gospel Celebration and at the Mabee Center in Tulsa, Oklahoma, Jason Davidson is quickly building a fan base throughout Gospel music. 
Matt Felts, known for his years with legendary groups such as the Dixie Melody Boys and Lesters, has established himself as a breakout soloist. He is nominated in two categories-Favorite Male Vocalist and Sunrise Artist. Matt recently released his debut solo project, Based On A True Story. 
Over in the Bluegrass category, Heaven's Mountain Band garnered three Top 5 nominations-Favorite Bluegrass Gospel Band, Album of the Year/This Ole House of Mine, and Song of the Year/"I'll Ride This Ship To The Shore." These nominations come on the heels of their fifth consecutive #1 song. 
"I am speechless!  I am so thrilled to see our artists recognized by the fans. They are incredibly talented and their ministries are touching lives. We are honored to represent them," stated Les Butler. Fans are encouraged to vote for the favorite BMG/FMG artists by going to www.sgnscoops.com.