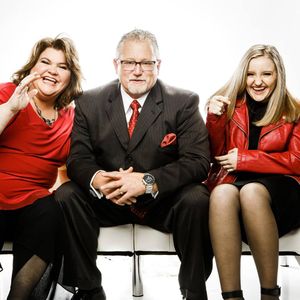 Nashville, TN (April 26, 2017) Southern Gospel music is blessed to have numerous new and exciting groups catching the ears of fans across the nation. One of the groups that has turned heads recently is the Coffmans. The Kentucky based family trio has had hit songs on the Singing News charts and have been appearing at several major events. They just announced that they will be appearing at the Singing In The Sun concert event in Myrtle Beach and also at Dollywood this fall for the Fall Harvest Celebration. 
The Coffmans performed last year at Singing In The Sun, one of Southern Gospel's largest events, and were invited to sing on the main stage. They will be appearing at the event April 24th through the 29th. Their appearance at Dollywood on October 10th and 17th also represents a return appearance as the Coffmans performed at the theme park last year. The crowd response was overwhelming and they are excited to be invited back to the park. "The Fall Harvest Celebration is incredible. We had such a wonderful time last year and are honored to be back," stated Louis Coffman. 
Represented by Butler Music Group Management, the Coffmans just released a breakout album, Judgment Day. The album is sure to be a milestone recording for the group. They recently released their first single from the new album, "I Will Fear No Evil," and also released a special edition version of the song that features Hall Of Fame member Ronny Hinson. 
Spring is always a season of new growth, and this spring brings new and exciting things for the Coffmans. Keep watching this talented trio as more exciting news is announced. Follow them at www.coffmanmusic.com or at www.butlermusicgroup.com.