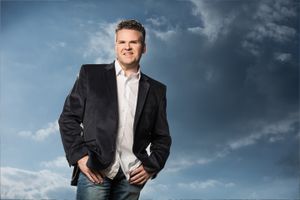 Nashville, TN (August 10, 2017) Traditionally it can be difficult for new soloists to pick up momentum. That has not been the case for breakout artist Jason Davidson. Jason recently claimed his first Singing News Top 40 hit song with "He Came Searching For Me."  Over the last year Jason has performed in front of large crowds including the American Gospel Celebration and Shadow Valley which has resulted Jason being nominated in the Diamond Awards Top 5 for the Sunrise Artist award. Fans can vote for Jason at www.sgnscoops.com. 
Recently, Jason was invited to perform at the PEAK National Youth Conference, hosted by the Worldwide Pentecostal Fellowship. The event was held at the Mabee Center in Tulsa, Oklahoma and featured well known preachers, singers, and musicians from all over the United States. Jason was invited to sing each night to crowds of over 5,000 people. 
"The services are always off the charts.  The singing and musicianship is second to none, and the preaching is life changing," Jason said. The services were also live streamed via the HGR Radio App, and had over 6,000 nightly listeners. PEAK conference celebrated its tenth year, and 2017 was Jason's third time to perform.  "I'm always privileged to be a part, and I wouldn't want my kids to miss it for anything," said Jason. "And of course, I wouldn't want to miss it either!" 
As Jason's incredible voice continues to reach new places and create new fans, Jason is showing signs of being the next big thing to hit Gospel music. Visit www.jasondavidson.net for more info and happenings with Jason.