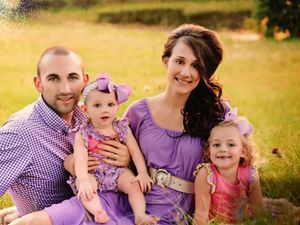 Nashville, TN June 29, 2017) Family Music Group artist, the Dunaways recently announced an unexpected blessing. Kanah Dunaway Lovern, husband Josh and their two girls Emmy Kate and Ella were on the last two days of a vacation when Kanah began experiencing severe pain and had to be taken to the hospital. When the results came back, the doctors identified the problem as a gallbladder attack but she wouldn't need surgery.

After the Dr. finished his instructions he said, "Oh, and your test came back positive for pregnancy." The shock to Kanah and Josh that they nearly fainted. "Josh and I had decided that our family was complete, there would be no more little bundles," added Kanah. God had other plans. They are expecting their unexpected blessing in February.

The Dunaway's are thrilled. "God proves to us over and over that we are not in control. He always knows what we need and when we need it. It's all good, and sometimes it's great," added Tammy Dunaway. Kanah will continue to sing at all Dunaways appearances.