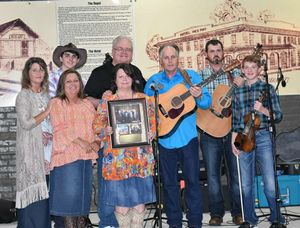 Nashville, TN (August 21, 2017) The quaint little town of Red Bay, Alabama has had much to celebrate through the years.  Red Bay is the hometown of country superstar Tammy Wynette and was recently featured in the TV series "Sun Records." Recently, the town has focused their attention on Heaven's Mountain Band, the wildly popular local Bluegrass Gospel band.  The band and the town has just celebrated 5 consecutive Singing News #1 songs. 
An all-day event was planned by Mayor Charlene Fancher to honor the group for their historic achievement. The day started off with a "meet and greet" with the town officials including the town council. From there the celebration took to the streets of Red Bay as Heaven's Mountain Band's bus was given a police escort through town with the mayor and other officials on board.  A luncheon followed in honor of the group. 
The festivities were capped off by a special concert that evening. Les Butler of Butler Music Group was on hand to emcee.  Each of the five #1 songs were written by group member Roger Johnson.  Roger shared the stories behind the songs that night, then the band proceeded to perform them.  "We knew that our beautiful town were supporters of the band, but to see fans line the streets and hundreds more pour into the park that night, was truly overwhelming. It really hits home and humbles us," stated Roger Johnson. 
"It was incredible to see their hometown honor them in this way. Red Bay truly loves Heaven's Mountain Band.  But, then again, they are getting that type of response everywhere they go.  They are wonderful, Godly people and the fans of Gospel Music have embraced them and their music," stated Les Butler. Heaven's Mountain Band is currently nominated in the Top 5 for three categories in the Diamond Awards presented by SGN Scoops. 
To stay connected with Heaven's Mountain Band, go to www.heavensmountainband.net.