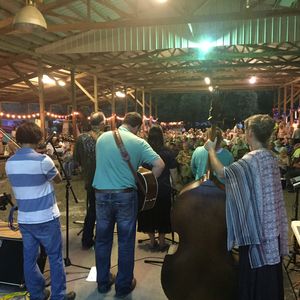 Nashville, TN (July 17, 2017) Shadow Valley has become one of Gospel music's top events, drawing the industry's premier artists and large crowds night after night. The outdoor concert series is nestled into a natural amphitheater in the rolling hills of Fayettville, TN. This year's concert series featured Jeff & Sheri Easter, Kingsmen, Chuck Wagon Gang, and many others.  Several Butler Music Group and Family Music Group artists were featured as well, including the Dunaways. 
Thursday night they "had church" as the Dunaways performed several of their hit songs, including "I Still Trust You." They pulled a surprise out of their bag as they brought breakout soloist, and Family Music Group label mate, Jason Davidson on stage to sing with them. "Jason and the Dunaways killed it," stated Les Butler.  Also included in the Thursday night line-up was Heaven's Mountain Band, who is quickly emerging as a household name in Bluegrass Gospel Music.  The Alabama-based group returned to Shadow Valley this year and once again left the crowd wanting more. 
Marking their first appearance at the outdoor sing was the Old Time Preachers Quartet, taking the stage on Friday night. The new quartet has had a whirlwind summer with appearances scheduled at Blue Gate Theater and Dollywood. They performed their current Top 20 hit song "Wavin' This World Goodbye," as well as their debut Top 30 single, "Old Time Way." The quartet left the crowd on their feet and showed why they are the hottest new quartet in Gospel music. 
Butler reminisces, "I played the music of Carlton Brady and the Singing Ambassadors for decades on the radio.  They were always an incredible quartet.  Carlton's son, Greg, continues this great event, and I want to personally thank him and his family for everything they do to keep 'real' Southern Gospel Music alive and well.  Shadow Valley is a gorgeous location and a quality event!  If you've never been, please mark your calendars for next year.  BMG/FMG and the Old Time Preachers Quartet were honored to be included this year!"  For information on Shadow Valley, please check out shadowvalleyproductions.com.