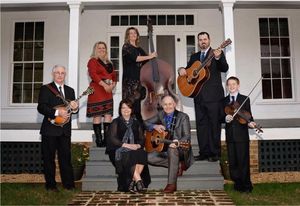 Nashville, TN (July 17, 2017) Very rarely has an artist seen the success on radio that Heaven's Mountain Band currently enjoys.  With the release of the Singing News Sept Bluegrass radio chart, the Alabama based group learned that their current single, "Who's Waiting For Me," has claimed the #1 spot on the Bluegrass chart. This song marks the groups fifth consecutive #1 song. 
Heaven's Mountain band have resonated with fans of Gospel music, releasing one incredible song after another. "I think one of the key components to their success is the songwriting of Roger Johnson. His music delivers the Gospel message clearly and in a way that hits straight to the heart," stated Les Butler. 
It's not surprising that with so much success on radio, Heaven's Mountain Band is also finding success on the road. They have become favorites for churches and promoters across the nation. They perform multiple times each year at Dollywood and just performed at Shadow Valley in Fayettville, TN. Due to their limited schedule, fans take every opportunity available to see them live, leaving most venues standing room only.  The group is also currently nominated for multiple Diamond Awards, presented by SGN Scoops Magazine.  Roger Johnson states, "I want to thank first and foremost the Lord, Jesus Christ.  Also, a big thank you to all the fans, all the DJs and a special thanks to Butler Music Group.  BMG radio and management is the best in Gospel music.  We love them!" 
With each chart topping song, Heaven's Mountain Band continues to show why they have become one of the premier groups in Bluegrass Gospel Music. To stay connected with Heaven's Mountain Band, go to www.heavensmountainband.net.